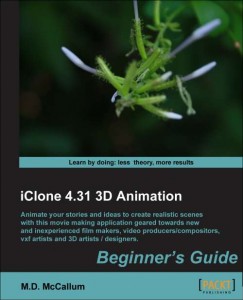 Animate your stories and ideas to create realistic scenes with this movie making application geared towards new and inexperienced film makers, video producers/compositors, vxf artists and 3D artists / designers with this book and ebook.

Overview of iClone 4.31 3D Animation Beginner's Guide:
- Create unique scenes, characters, and digital art for animated movies or images
- Scale, move, animate and manipulate scene assets including props and actors
- Step by step instruction with screen shots, project assets, challenges, and quizzes
- Helpful tips and information about working with iClone from experienced iClone gurus.

Release Date: October 2011
Language: English
Format: PDF
Pages: 508 PAGES [ 235mm x 191mm ]
Quality: EXCELLENT
Author(s): M.D. McCallum
ISBN: 1849691789
ISBN 13: 978-1-84969-178-9




Warning! You are not allowed to view this hidden text.

To copyright holders: The current post does NOT contain ANY materials violates your rights! Are available for download only training video tutorials and examples!

35

)
( Votes:



Dear Geust, You went to the site as unregistered user.
We encourage you to Register or enter the site under your Login.