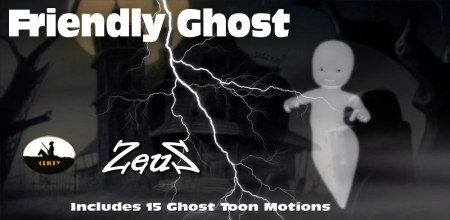 Description: This Pack contains a 2 Friendly Ghost Characters (with and without legs) you can animate using standard human motions plus 15 Toon Motions accessible via Perform, Idle or Move Toon Persona commands.
Two Ghost characters with Visemes already set and adjustable. A persona is included that uses Cartoon Boy motions. Basically, all you would need to do is animate the character and set your skin color to match what your graphics card produces.
A persona note is included with the character that explains how to relocate the motions included and establish a new path for the right-click performs built into the character.
Like other characters, they can follow paths, have foot and hand contact applied. You will not see the legs move for the ghost tail version because they do not technically exist.
These characters work in all current versions of iClone 5 and beyond.
Pack includes: 2 Characters, 15 Motions





Warning! You are not allowed to view this hidden text.

To copyright holders: The current post does NOT contain ANY materials violates your rights! Are available for download only training video tutorials and examples!

6

)
( Votes:


Tags: Characters Motions


Dear Geust, You went to the site as unregistered user.
We encourage you to Register or enter the site under your Login.