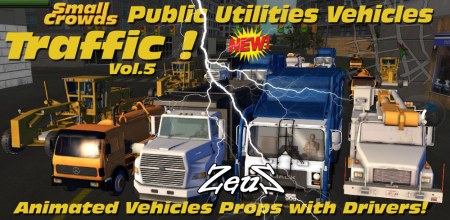 Description: This pack contains 5 Public Utility Vehicles (Road Grader, Electric Utility Truck, Dump Truck, Garbage Truck and Vacuum Truck) including animated Drivers. The Road Grader Shovel is an attached prop that can be rotated and lowered.
Pack includes: 5 Props





Warning! You are not allowed to view this hidden text.

To copyright holders: The current post does NOT contain ANY materials violates your rights! Are available for download only training video tutorials and examples!

3

)
( Votes:


Tags: Props Small Crowds


Dear Geust, You went to the site as unregistered user.
We encourage you to Register or enter the site under your Login.