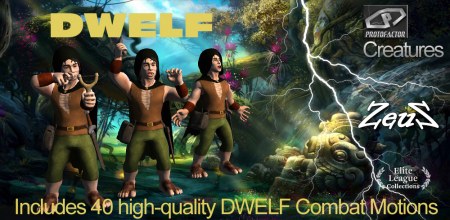 Description: This Pack contains a DWELF Character for iClone plus 40 high-quality DWELF Combat Motions. The Character is supplied as a Non-Standard Avatar compatible with iClone Standard Motions and ALSO as a Prop with Embedded Animations. The Prop version of the Character provides additional functionalities such as the capability to use the multi-duplicate iClone feature and the capability to apply key frames to the scaling of bones which may be required by some of the provided custom animations.
Pack includes: 1 Character, 1 Prop, 40 Motions





Warning! You are not allowed to view this hidden text.

To copyright holders: The current post does NOT contain ANY materials violates your rights! Are available for download only training video tutorials and examples!

4

)
( Votes:


Tags: Combo Characters Fantasy Motions Medieval


Dear Geust, You went to the site as unregistered user.
We encourage you to Register or enter the site under your Login.