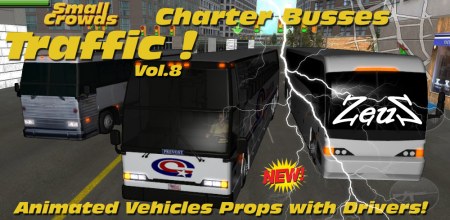 Description: This pack contains 3 Charter Bus Vehicles (two Charter and one generic City Bus).
Small Crowds Traffic are a revolutionary new concept has animated 3D Models of vehicles using high end simulation tools. Each Vehicle of the series is supplied with a fully animated Driver, a Vehicle Body and 4 separate Wheels attached to a custom built animated Vehicle Rig which has 7 embedded performances from Start to Stop including accelerations and decelerations (Straight, Turn Left, Turn Right, Curve Left, Curve Right, Fork Left and Fork Right). The Rigs provided can be used to assemble other cars, for instance using your iCar Parts. Furthermore, the trajectories of the embedded animations are a perfect match with the curves provided in EZ Roads Construction Kit which constitute the perfect complementary Pack for all Small Crowds Traffic Pack ...
Small Crowds Traffic are a great value and an amazing time saver when you want to populate your City Streets and Parking Lots !
Pack includes: 3 Props





Warning! You are not allowed to view this hidden text.

To copyright holders: The current post does NOT contain ANY materials violates your rights! Are available for download only training video tutorials and examples!

5

)
( Votes:


Tags: Props Cars Small Crowds


Dear Geust, You went to the site as unregistered user.
We encourage you to Register or enter the site under your Login.